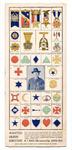 Description
An example of blotting paper used as a promotional piece, circa 1890. Graphics provide badges of several Civil War corps. Text reads, "Wanted, Soldiers' Homesteads. Union Soldiers who homesteaded some land, but less than 160 acres before June 23, 1874, are entitled to additional rights even though entry was relinquished or abandoned. If soldier is dead, widow or heirs have his rights. I pay spot case for these claims. Address (Comrade) W. E. Moses, 3100 Jacobson Bldg., Denver, Colo. Send two-cent stamp for Corps Badge Blotter."
This blotter paper was used by the recipient and some absorbed ink appears on the back.
Digitized from Box 278, folder 11.
Keywords
blotter, real estate, Civil War, Homestead Act
Disciplines
Military History | Social History
Recommended Citation
Moses, W. E., "Union Insignia Blotting Paper" (1890). Paul W. Bean Civil War Papers. Item 80.
https://digitalcommons.library.umaine.edu/paul_bean_papers/80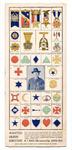 Included in
Rights Statement