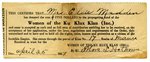 Description
A receipt dated April 25, 1924, noting that Mrs. Elsie Madden donated five dollars to the Women of the Ku Klux Klan, Inc., Realm of Maine. Signed by Flora L. Hothorne.
Digitized from Box 278, folder 1, of the Paul Bean Collection.
Please note: Libraries and archives collect materials from different cultures and time periods to preserve and make available the historical record. As a result, materials such as those presented here may reflect sexist, misogynistic, abusive, or discriminatory attitudes or actions that some may find harmful or difficult to view.
Keywords
KKK, Ku Klux Klan, racism, immigration, religion, social activism, women, Maine
Disciplines
Race, Ethnicity and Post-Colonial Studies | Social History
Recommended Citation
Women of the Ku Klux Klan, Inc., "Women of the Ku Klux Klan Donation Receipt" (1924). Paul W. Bean Civil War Papers. Item 73.
https://digitalcommons.library.umaine.edu/paul_bean_papers/73
Rights Statement