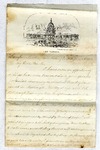 Files
Description
Letter from Frank L. Lemont to J.S. Lemont and Samuel R. Lemont, June 30, 1861. In it he mostly tells his family of their long journey to Washington amid the preparations for war, including the numerous parades and interactions with locals on their way from Maine, down through Boston to Washington. He wishes the family well and that they not worry excessively over his situation.
Taken from the Paul W. Bean Collection, Box no. 277, f.5
City
Meridian Hill, Washington, D.C.
Keywords
Environment, Civil War, Home Front, letters, letter from the front, Frank L. Lemont, 5th Maine Volunteers
Disciplines
Military History | Social History
Recommended Citation
Lemont, Frank L., "Letter from Frank L. Lemont to J.S. Lemont and Samuel R. Lemont, June 30, 1861" (1861). Paul W. Bean Civil War Papers. Item 60.
https://digitalcommons.library.umaine.edu/paul_bean_papers/60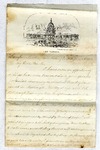 Included in