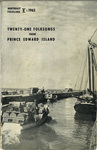 Description
From the introduction by Edward D. "Sandy" Ives: "The twenty-one songs printed in this little volume are a representative sample of the songs I collected on Prince Edward Island during the summers of 1957, 1958, and 1963. ... As a matter of fact, I wasn't even "collecting songs" in the usual sense of that term; I was very specifically looking for songs by Larry Gorman and for biographical. Information about him, and when L wasn't asking about Larry Gorman I was asking about Joe Scott. Thus the present collection is neither the result of my general acquaintance with the traditions of the whole Island nor of intensive research in a limited area. It is made up mostly of the songs people sang me while I was looking for something else."
Table of Contents:
Edmund Doucette, Miminegash
John Ladner
Johnny Doyle
The Old Beggar Man (Hind Horn)
Dan Curry
Pretty Susan, the Pride of Kildare
The Ghostly Fishermen
Mantle So Green
The Shepherd
Joseph Doucette, Miminegash
The Miramichi Fire
The Lost Babes of Halifax
Mary Cousins, Campbellton
The Millman and Tuplin Song
Uncle Dan
Charles Gorman, Burton
Drive Dull Care Away
The Banks of the Little Eau Pleine
Angus Enman, Spring Hill
Benjamin Deane
When the Battle It Was Won
Wesley Smith, Victoria West
Guy Reed
The Lumberman in Town
The Maid of the Mountain Brow
The Silvery Tide
There Was an Old Woman in Our Town
Publisher
The Northeast Folklore Society, Department of English, University of Maine
Keywords
Northeast Folklore, Maine Folklife Center, folk songs, Prince Edward Island
Disciplines
Folklore | Music | Oral History
Recommended Citation
Twenty-One Folksongs From Prince Edward Island, special issue of Northeast Folklore, Edward D. Ives, ed., vol. 5, The Northeast Folklore Society, Department of English, University of Maine, 1963.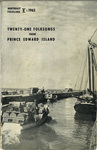 Included in