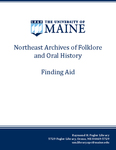 Description
This collection consists of three interviews about the history of Cowing's Tavern in Lisbon Falls, Maine.
NA1066 Walton Smith, interviewed by Linda Madden, July 2, 1976, Lisbon Falls, Maine. Smith talks about the Lisbon Falls Fire of 1901 and the destruction it caused; rebuilding after the fire; the Masonic Lodge; a play put on by the Masons; Cowings Tavern, built 1830; the tavern's use as a stagecoach stop; local entertainment, selling farm products in Lewiston; buildings and families of Lisbon Falls; and a faith healing story.
NA1067 Leon Bard interviewed by Linda Madden, July 12, 1976, Lisbon Falls, Maine. Bard tells of Lisbon Falls in the early and mid-twentieth century; fire that burned Cowing's Tavern in 1936; horses and their uses; poor performance and reputation of fire department; cutting, storing and selling ice; sawing clapboards; driving the snow roller; sleighs; work horses and their intelligence; dinner [lunch] breaks with his horses; transition to plowing with a truck in the 1930s; driving an oil truck; flood of 1936 which washed out a bridge; his schooling; Saturday night dances at the schoolhouse; and the sequence of a dance called "Hell's Victory."
NA1068 Geraldine Hale, interviewed by Linda Madden, summer 1976, Lisbon Falls, Maine. Hale talks about Cowing's Tavern; trains; Worumbo; saw mills; 1936 flood; snow roller; steam fire engine. Booklet, "We Remember Lisbon Falls."
Keywords
Floods, Great Fire of Lisbon Falls
Disciplines
Folklore | Oral History
Size of Collection
3 items
Recommended Citation
Special Collections, Raymond H. Fogler Library, University of Maine, "MF010 Cowing's Tavern Collection" (2020). Northeast Archives of Folklore and Oral History Finding Aids. Number 9.
https://digitalcommons.library.umaine.edu/ne_findingaids/9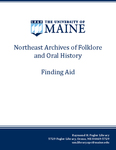 Included in