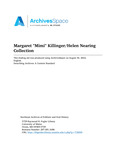 Description
Interviews by Margaret "Mimi" Killinger about Helen and Scott Nearing whose lives as homesteaders in Vermont and Maine came to embody the simple living philosophy of Agrarianism that became the core of America's "Back to the Land" Movement of the 1960s, 1970s, and 2020s.
NA3378 Nancy Berkowitz, interviewed by Mimi Killinger, March 3, 1999 and April 2, 2001, Blue Hill and Harborside, Maine, respectively. March 3, 1999: Berkowitz talks about Helen's novels Living the Good Life and Loving and Leaving; Helen's relationship with her husband, Scott; Juliette of the Herbs; Helen's interaction with visitors to the farm; astrology and mysticism; Scott's death; Helen's relationship with Berkowitz and her family; Scott's granddaughter Elka Schuman and her Bread and Puppet Theater in Glover, Vermont; Scott's letters from Central and South America; Helen's relationship with Berkowitz's children; Scott's 100th birthday party; Helen's relationship with Dr. Lovell; Helen's relationship with her family; Elliot and Susan Coleman; Jean and Keith Hebron.
April 2, 2001: Also present: Rachel Glickman and Henry Zacchini, resident stewards of Forest Farm. Berkowitz talks about the history of Forest Farm; how she came to live there; her duties; Brett Brubaker, builder of the house; growing and storing their own vegetables; changes in Blue Hill; Sunday music nights and Monday meeting nights; speaker Alicia Bay Laurel; the interior of the house; Helen and Scott and their trip to Europe; the Common Ground Fair; University of Maine Environmental History professor Dick Judd; her neighbors the Burts and Dietrichs; the introduction of the telephone at Forest Farm; life at Forest Farm; artist Max Schuman; friend Bill Copperthwaite; Helen's practice of recycling cards; the Clivis Multrum Abby Rockefeller toilet; their Thorndike stove; painter Connie Caney; the Bread and Puppet people of Vermont; Pusso the cat; Helen's travels after Scott's death; Gail Disney; Paul Breedman; painter Cole Morgan; Rachel and Henry's experiences living in Africa; Cuban patriotism.
NA3380 Gail Disney, interviewed by Mimi Killinger, March 5, 1999, South Brooksville, Maine. Disney talks about the Nearings: Scott Nearing's (SN) participation in the Arden Community in Wilmington, Delaware in the 1930s; living with the Nearings at Arden; Helen's (HN) travels in Europe with Krishnamurti; separating HN and SN for Killinger's feminism class; HN's opinions on vegetarianism; HN's love of animals; SN's belief in communism; Forest Farm; HN's and SN.'s colleagues Elliot Coleman, Keith Hebron, Stanley Joseph and Greg Sommers; SN's Monday night lectures; HN's travels to Cuba; HN's publishing house, the Social Science Institute; SJ's suicide; SJ's contributions to the community; SJ's book The Maine Farm; HN's relationship with her family; HN's personality and idealism; HN's friend Nancy Cudle Johnson; the effects of SN's death on HN; HN's knitting; SN's mentorship of HN; the effects of HN's death on the community.
NA3381 David Trager and Merle Trager, interviewed by Mimi Killinger, October, 14, 2001, Jamaica, Vermont. Also Present: Joshua J. McCloud. Trager talks about Scott Nearing: Scott being fired from Princeton for his views; Scott Nearing's marriage to Helen; Scott Nearing's followers; the Norm Williams house and its history; realtor Jim Howard, who sold his house to the Tragers; the Trager's stone house; Scott Nearing's colleagues Wes Frost and Norman Williams; Ron Curtis's work on the Trager's house, colony member Pearl Buck; the history of the Trager house, its construction and work done to it.
NA3384 Jeanne Gaudette, interviewed by Mimi Killinger, March 3, 1999, Blue Hill, Maine. Gaudette talks about Helen Nearing (HN) and her life: Scott's (SN) mentorship of his wife; SN's paternalism towards HN; HN's travels and relationship with Krishnamurti; how HN met Krishnamurti; HN's book Loving and Leaving; teacher CW Leadbetter, friend of Annie Besant; theosophy; the disintegration of HN's romantic relationship with Krishnamurti; SN's unwillingness to have kids; German photographer Lotta Jacobi; SN's colleague Eliot Coleman; Peitra Mueleman, President of the Theosophical Society of Holland; friend Ellen Laconte; book Making of a Radical; HN's relationship with her family; SN and HN's relationship; HN and SN's astrological relationship under their signs; friend Diane Fitzgerald; Barbara Damarosch; HN's accidental death; friend Karen Frangoulis; the possibility that HN committed suicide; Gaudette's participation in the simple life; colleagues Stanley Joseph and Keith Hebron; HN's personality.
NA3385 Rebecca Lepkoff, interviewed by Mimi Killinger, December 29, 2001, New York City, New York. Also present: Gene Lepkoff and Sarah Pandiscio. Lepkoff talks about Helen Nearing (HN) and her life in VT 1950-1954: the Nearings' Good Life Farm in Jamaica, VT; neighbors and colleagues Norm and Natalie Fields, Norm and Winnie Williams, Hilda and George Wendland and the Smiths; the Nearings' exploitation of their neighbors; Hilda Wendland's braided rugs; colleague Charles Kent; Jewish neighbors Miriam and Herb Leider; Scott Nearing's (SN) lectures; John Saltmarsh's autobiography of SN; SN's debating skills; SN's views on capitalism; Jerry Goldman's views on SN; HN's friend Toby Goldman; how meeting and marrying Scott changed HN's lifestyle; the Nearings' dietary practices as vegetarians; SN's rules for living; the Nearing's choice to sell their land to George Breen; writer Pearl Buck; the Williams' and their home, which they sold to the Tragers; artist Peter Wendland, creator of the Stratton Arts Center; recluse Gary Washburn; Werden's history of Jamaica, VT; Lepkoff's photo display at the Deider Gallery in Chicago, IL.
Keywords
Agrarianism, Back to the Land Movement
Disciplines
Folklore | Oral History
Size of Collection
5 items
Dates of Collection
1999-2001
Recommended Citation
Special Collections, Raymond H. Fogler Library, University of Maine, "MF148 Margaret "Mimi" Killinger / Helen Nearing Collection" (2022). Northeast Archives of Folklore and Oral History Finding Aids. Number 60.
https://digitalcommons.library.umaine.edu/ne_findingaids/60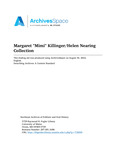 Included in