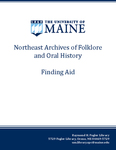 Description
Twenty-six student papers written for a course in folklore offered at Bowdoin College during the fall semester, 1980.
NA1428 Brian Keefe, Chatham, Massachusetts. Superstitious beliefs among Cape Cod fishermen.
NA1429 Elizabeth Poliner, Brunswick, Maine. Traditional French-Canadian cookery.
NA1430 Irma Raitt, interviewed by Julie Greene, Eliot, Maine. A farm wife talks about her life.
NA1431 Billy Edwards, interviewed by Judy Laster, Brunswick, Maine. Edwards talks about the history of Brunswick during Prohibition; rum-running; police chief Edwards; and how he dealt with the problem.
NA1432 Debora Mish, Bridgewater, Maine. "Millwork and the Folk Tradition."
NA1433 Judith Ocker, Brunswick and Topsham, Maine. "Folk Cookery in the Brunswick-Topsham Area."
NA1434 Mary Rees, Bath and Brunswick, Maine. "Bath Iron Works: An Oral History."
NA1435 Harold Ulrickson, interviewed by Sheba Veghte, Freeport, Maine. Ulrickson, from Freeport, Maine, talks about being a lobsterman.
NA1436 Mrs. Christian Brown, interviewed by Lisa Rosen, Freeport, Maine. Brown, age 80, talks about being a quiltmaker, having made over a hundred quilts.
NA1437 Eleanor Wormwood, interviewed by Lucinda Martin, Kennebunkport, Maine. Wormwood talks about how he uses herbs and berries to make folk medicines.
NA1438 Andrew Segal, Brunswick, Maine. Collection of ghost stories.
NA1439 Edward Poole, Merrymeeting Bay, Maine. "Merrymeeting Bay: Its Folk History and Duck Hunting Tradition."
NA1440 Edith Smith, Lubec, Maine. The Smith family, lighthouse keepers at West Quoddy Head light for 30 years.
NA1441 Eugene Alexander, interviewed by Suzanne Kort, Orr's Island, Maine. Alexander, a boatbuilder, fisherman, lobsterman, talks about his life.
NA1442 Normand Parent, interviewed by John Theberge, Maine. Parent talks about his lumbering experiences in northern Maine.
NA1443 Sterling Mills, interviewed by Daniel Shannon, Bryant Pond, Maine. Mills talks about life in a family logging camp.
NA1444 Douglas Ingersoll, Harpswell, Maine. Territoriality and rivalry among lobstermen in Harpswell. RESTRICTED.
NA1445 Philippe Franqules, Harpswell, Maine. "Harpswell, Maine: Shipbuilding, Farming and Folklore."
NA1446 Jean Poulin, interviewed by Scott Wright, Brunswick, Maine. Poulin talks about being a woods worker and carpenter.
NA1447 Edmund "Rip" Black, interviewed by Jim Pasman, Bailey's Island, Maine. Black talks about being a lobsterman.
NA1448 Keith George, Mr. Potholm, and Irve Richardson, interviewed by Michael Sheehan, Brunswick, Maine. George, Potholm, Richardson talk about hunting in Maine.
NA1449 Amy Homans, Augusta, Brunswick, and Bangor, Maine. "Cookery as a Folk Tradition in a Maine Family."
NA1450 Captain Charlton C. Smith interviewed by Susan Caras, Marblehead, MA. "Sea Stories: A Focus on Captain Charles H. Snellen of Marblehead, Mass."
NA1451 Charles Redman, East Otisfield, Maine. "Ellis Stone: A Story Teller."
NA1452 Virl Reid, Peak's Island and Portland, Maine. "Local Tales of the Supernatural as a Reflection of the Social Structure and Attitudes of Peak's Island, Portland, Maine."
NA1453 Carolyn Richins, Warwick, Rhode Island. "Rum-running in Warwick, RI."
NA1454 Mr. Harry Baldwin & Mrs. Harry Baldwin, Raymond Charron, and Emory Booker, interviewed by Jane Patrick, Brunswick, Maine. The Baldwins, Charron, and Booker talk about life in a Maine mill town.
Keywords
Hunting, Ghost stories, Community life, Food habits, Maine history
Disciplines
Folklore | Oral History
Size of Collection
27 items
Recommended Citation
Special Collections, Raymond H. Fogler Library, University of Maine, "MF006 Bowdoin College Folklore Papers" (2020). Northeast Archives of Folklore and Oral History Finding Aids. Number 5.
https://digitalcommons.library.umaine.edu/ne_findingaids/5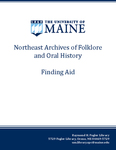 Included in