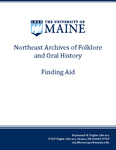 Description
Collection of various recordings by Maine Public Broadcasting Network. Copyright belongs to original broadcaster. For reference and educational use only. May not be copied.
NA1346 Esther Wood, interviewed by Virgil Bisset, Maine Public Broadcasting Network, 1980, Blue Hill, Maine. 29 pp. Tape: 2 hrs. w/ cat. Two radio interviews with Wood, Prof. Emeritus, Gorham State Teachers College, about her memories of rural life; Maine schools; spring house cleaning; spring signs; Memorial Day.
NA2132 Susan Tibbets, hosts concert with 20 singer and songwriters, featuring Kendall Morse, Edward D. "Sandy" Ives, Lisa Null, and Slim Clark, deposited by Maine Public Broadcasting Network, fall 1989, Hauck Auditorium, UMaine, Orono, Maine. 11 pp. Cat. only. On February 11 and 12, 1977, a concert and a series of workshops called "Songs for February" held at the Hauck Auditorium UMaine. From the recordings made of the concert and series of workshops, the Maine Public Broadcasting Network produced an 8-part radio series as part of their "Roots and Branches" series." Accession consists of a catalog of the radio program.
NA2136 Carolyn McKeen, Ernie Freeberg, and Carolyn Chute on Maine Public Broadcasting show "Maine Things Considered", May 1, 1989, Orono, Maine. 3 pp. "Maine Things Considered" was taped off the radio including a piece on gay rights; proposed taxing of cable television; rental of videos; Carolyn Chute talks about the Maine work ethic; her experiences working in chicken plants, etc. RESTRICTED.
NA2295 By Mary Lou Colbath, 1991-1992, statewide, Maine. 5 pp. Tapes: 30 w/ no transcription, catalog only. Thirty cassettes containing a collection of 49 recorded programs or vignettes which aired on Maine Public Radio during 1991-1992 as a series called "Hear Maine!" The segments were produced and aired as part of MPR's "Maine Things Considered" program, funded by the Maine Humanities Council. The series reflects the diversity of people and culture in Maine and the issues and concerns of the people. Program titles include "Acadian Family Reunions," "Waldoboro Germans," "Rural Law Enforcement," "Franco-American Social Clubs," "Native American Mascots and Team Names," "Blueberry Harvest," "The AME Zion Church: A Profile," "Women and the Sea," and many others. Five complete sets of the series were made on audio cassettes, and a set was placed in each of five selected libraries or archives including the Bangor Public Library, the Cary Library in Houlton, the Maine State Library in Augusta, the Maine Folklife Center in Orono, and the Portland Public Library. RESTRICTED.
NA601 Maine Public Broadcasting System, ca. 1998, various locations, Maine. Accession consists of three VHS video cassettes featuring three episodes in a television series titled "Home: The Story of Maine" produced for Maine Public Television. The three programs are: Program 1: "A Place Apart;" Program 2: "A Part of the Maine;" and Program 3: "They Came by Sea." Program 1 deals with images of Maine as a vacation land for tourists as well as a frontier removed from the national mainstream. Program 2 looks at Maine's natural resources and discusses European settlement of the state. Program 3 continues the look at Maine's natural resources especially along the coast. A promotional sheet describing the programs is included. RESTRICTED.
NA2623 Donated by Maine Public Broadcasting, 2000, Maine via the Julia J. Hixon (staff assistant for HOME: The Story of Maine). Accession consists of 4 video programs as follows: A Love for the Land: The legacy of Maine's farmers is the open farmland they shaped from wooded rocky terrain. Their story is an inspiring tale of hardship, innovation, and remarkable endurance. The Nation's Playground: With its remarkable coastline, deep-green forest, and rolling landscape, Maine has been a favorite place for visitors for over a century. Over the last century, tourism has grown into the state's largest industry. Trails, Rails & Roads: The story of transportation in Maine is the story of the state's ongoing challenge to keep its people connected both to economic markets and to each other. Maine's communities have been formed by the patterns of transportation. Power Lines: Maine switched on its first electric light in 1880 and, within a decade, the state's urban areas were benefitting from the advantages of electricity. However, electrification was slow to reach outlying rural areas and over one-quarter of the state didn't receive electricity until into the 1940s.
NA0705 Walter Trundy, Walter Wallace, Alva Clement, and Lorna (Douglas) Clement, interviewed by Kenneth Whitney, Florence Ireland, Bob Ireland, and Jill Allen, winter 1971-1972, Stockton Springs, Cundy's Harbor, and Castine, Maine. Trundy, Wallace, and the Clement, all coastal people, on what Christmas was like around the turn of the century. Maine Public Broadcasting Network.
Keywords
Performing Arts, Social Life and Customs
Disciplines
Folklore | Oral History | Radio
Size of Collection
5 items
Dates of Collection
1971-2000
Recommended Citation
Special Collections, Raymond H. Fogler Library, University of Maine, "MF024 Maine Public Broadcasting Network" (2021). Northeast Archives of Folklore and Oral History Finding Aids. Number 49.
https://digitalcommons.library.umaine.edu/ne_findingaids/49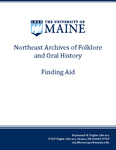 Included in