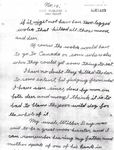 Description
Collection of interviews relating to hunting, trapping, poaching, and recreational fishing compiled in June 2014 from holdings across the archive.
NA0532 Wilbur Day, donated by Alice Bacon, 1962, Wesley, Maine. Photocopy of a handwritten memoir (approx. 538 pages) of Wilbur Day (1864 - 1924), a hunter, registered guide, and poacher from Wesley, Maine. Also, a typescript (139 pp.) prepared from the photocopied memoir. The memoir was first obtained from Alice and John Bacon, by Jane Kazutow Pampalone and again later by Edward D. "Sandy" Ives. The original (presumed to have been written down by Wilbur Day's sister, Susie Day, from dictation by Wilbur Day) was returned to the owners. The Day memoirs were eventually edited for publication by Edward D. Ives and appeared with an introduction as "Wilbur Day: Hunter, Guide, and Poacher" comprising Northeast Folklore Volume 26 (1985). Day mostly wrote about poaching; game laws; murder of game wardens; an arson case; hunting dogs; and many other aspects of woods life. Accession includes song "The Shacker Boys of Wesley" and three photographs relating to Day.
NA0735 By William Graves, fall 1972, Mars Hill, Maine. Paper deals with beliefs and superstitions about hunting.
NA0895 "Red," interviewed by Galen Beaulieu and Ilka List for AY 125 (Oral History and Folklore: Fieldwork), October 18, 1974, November 8 & 22, 1974, at Orono, Maine. November 20, 1974, at Beaulieu's house (Beaulieu and Edward D. "Sandy" Ives also present). Red (pseudonym) talks about hunting, poaching, and fishing: his first night hunt; night hunting; carbide hat lights; moving from Aroostook to Penobscot County; his camp on Pushaw Stream in Alton, Maine; changes in deer habits; "road" hunting; game wardens; buck and doe habits; prices; using the whole deer; hunting with his son; why he thinks poaching is wrong; hits and misses; poaching deer from the car; snorting or blowing; scouting; deer yards/pens; baiting deer; changing partners while poaching; hunting zones; and evading the law. Recording is in English. RESTRICTED. No effort may be made to identify "Red's" identity.
NA1275 Paper, by Linda Dunn for Folklore & Folklife, Brown University, 1978, Waltham and Ellsworth, Maine. Paper on poaching as a way of life and illegal game hunting.
NA1474 Paper, by Eric Kangas for AY 122, spring 1981, Rockland, Maine. Paper on big buck hunting stories.
NA1644 Paper, by Nathan Lowrey for AY 122, spring 1983, Aroostook County, Maine. Paper, titled "Poachin' (as a fine art)," deals with a collection of poaching stories.
NA1656 Paper, by Adam Jenkins for AY 122, spring 1983, Bangor, Maine. Paper on Everett Cornelius and his many hunting experiences and stories.
NA1975 Paper, by Jennifer Holmes for AY 322, spring 1987, Penobscot, Maine. Paper, "Hunting Stories of the Holmes Family."
NA1977 Paper, by Cynthia Emerson for AY 322, spring 1987, Garland, Maine. Paper deals with a collection of women's hunting and fishing stories; how men perceive women who hunt. RESTRICTED.
NA2370 Ella Thompson, interviewed by Chris Keenan for AY 425, fall 1994, Brewer, Maine. Two interviews with Thompson of Cherryfield, Maine about poaching. No tape for first interview. RESTRICTED: no depositors form.
NA2424 Norman Davis, interviewed by Scott Davis for AY 425, February 1996, Eustis, Maine. Davis talks about hunting; hunting camp; moose hunt; deer hunt at Third St. John Pond, Indian Pond; hunting techniques and signs; deer behavior.
Keywords
Recreational fishing, Hunting, Poaching, Trapping
Disciplines
Folklore | Oral History
Size of Collection
18 items
Dates of Collection
1959-2008
Recommended Citation
Special Collections, Raymond H. Fogler Library, University of Maine, "MF181 Hunting, Trapping, Poaching, and Recreational Fishing Collection" (2020). Northeast Archives of Folklore and Oral History Finding Aids. Number 35.
https://digitalcommons.library.umaine.edu/ne_findingaids/35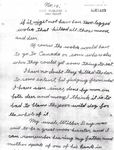 Included in