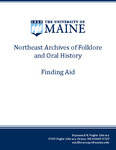 Description
A series of interviews with people who knew and lived with Fannie Hardy Eckstorm (1865–1946) of Brewer, Maine. Hardy Eckstorm was an American writer, ornithologist, and folklorist who earned recognition as one of the foremost authorities on Maine's history, wildlife, and cultures. Hardy Eckstorm served as the first female superintendent of schools in Brewer, Maine from 1889-1891. Though she authored many works, Hardy Eckstorm maybe best known for her book The Penobscot Man, first published in 1904.
See: Volume XVI of Northeast Folklore Fannie Hardy Eckstorm: A Descriptive Bibliography by Jeanne Patten Whitten, 1975.
See also: Fannie Hardy Eckstorm Papers and Fannie Hardy Eckstorm in General Maine History Photographs in this repository.
NA1118 Rev. Alfred G. Hempstead, interviewed by Edward D. "Sandy" Ives, August 1977, Lake Onawa, Maine. Rev. Hempstead talks about his recollections of Fannie Hardy Eckstorm; one woods story.
NA1297 Fannie Hardy Eckstorm, interviewed by Miles L. Hanley, summer 1934. Donated by Audrey Duckert, 1979, Brewer, Maine. Copy of interview with Eckstorm, by Hanley, associate director of The Linguistic Atlas of New England. Mrs. Eckstorm was an informant for the Atlas (informant #404).
NA2353 Claire Crosby, interviewed by Pauleena MacDougall, January 1995, Wayne, Maine. Crosby talks about her memories of living with Fannie Hardy Eckstorm in Brewer, Maine in 1930.
NA2475 Wayne Libhart, interviewed by Pauleena MacDougall, summer 1997, Seal Cove and Tremont, Maine. Libhart talks about his recollections of Fannie Hardy Eckstorm during his youth in Brewer, Maine. Also included: hand-drawn sketch/floor plan of Fannie Hardy Eckstorm's home.
NA2477 Pauleena MacDougall, August 1997, Maine. "Six Years under Maine Game Laws" by Fannie Hardy Eckstorm. Photocopy of articles as they appeared in "Forest and Stream" magazine from March-August, 1891.
Keywords
Maine History, Linguistics, Social life and customs
Disciplines
Folklore | Oral History
Size of Collection
4 items
Dates of Collection
1934-1997
Recommended Citation
Special Collections, Raymond H. Fogler Library, University of Maine, "MF174 Fannie Hardy Eckstorm" (2020). Northeast Archives of Folklore and Oral History Finding Aids. Number 31.
https://digitalcommons.library.umaine.edu/ne_findingaids/31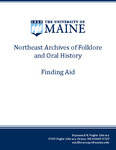 Included in