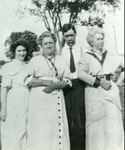 Description
Series of interviews with Anna Sevigny about her life history. Interviews were conducted by Julia Hunter in Hanover, New Hampshire in 1977. Topics covered include Irish immigrant ancestry; education levels; misunderstandings of different cultures; living conditions as a new arrival to the United States; disposition of parents.
North Hartland, Vermont - descriptions of social life and mills in the region as well as tenants; learning women's roles; chores; marriage; sewing and cloth-making; food preparation; winemaking; entertainment; pets and livestock owned; travel and transportation over time; schooling; playing pranks; holiday celebrations; community church; lumbering; tensions with tourists; the introduction of electric light and telephones.
Franklin, New Hampshire - working in a hosiery mill; meeting her husband and courtship practices; training to be a nurse in Manchester, New Hampshire; living conditions with first marriage; strikes in the mills; moving to Boston.
Boston, Massachusetts - her husband's drinking problems; prohibition; entertainment and nursing in Boston, getting separated and moving to Woodstock, Vermont.
Also covers social life during the Depression; her first car; getting divorced and living alone in Lebanon, New Hampshire; being a nanny; the Chicago World's Fair; working in Florida during World War II; her second marriage; hobbies and volunteer work; travels; shoulder accident; life after Mr. Sevigny's death; living in White River Junction, VT; learning to fly; and aging and living in a nursing home. See also Northeast Folklore XX: "Anna May: Eighty-Two Years in New England."
Keywords
Community life, Social Conditions, Immigration and society, Women's, Gender, Sexuality Studies
Disciplines
Folklore | Oral History
Size of Collection
1 item
Recommended Citation
Special Collections, Raymond H. Fogler Library, University of Maine, "MF002 "Anna May: Eighty-Two Years in New England" Julie Hunter Collection" (2020). Northeast Archives of Folklore and Oral History Finding Aids. Number 3.
https://digitalcommons.library.umaine.edu/ne_findingaids/3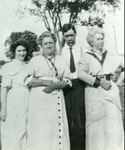 Included in