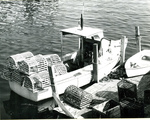 Description
A series of thirteen interviews, totaling twenty-four hours of recordings, conducted in 1973-1974 by David Taylor under contract for the Penobscot Marine Museum in Searsport, Maine, with fishermen from the Penobscot Bay region. Themes include equipment used and techniques; fisheries locations, species, and extent; dangers and satisfactions of the fisherman's life; industry economics; family and community networks. Includes some photographs.
NA0764 Wade Osborne , Sr., interviewed by David Taylor, June 7, 12, & 25 & August 1 & 9 1973, at Wade's home in Lincolnville, Maine. Penobscot Bay Fisheries and Industries Project, Penobscot Marine Museum.
June 7, 1973: Wade describes his life as a salmon fisherman beginning around the turn of the century; maintenance, rent, and ownership of salmon berths; fishing with pole weirs; maintenance, parts, and setup of salmon nets; effect of weather on salmon catches; typical day fishing; packing, and marketing of salmon.
June 12, 1973: Wade discusses salmon wherries; care & building of a wherry; wherry builders Orin Ames, Henry Drinkwater, Stimp Rhodes, and Elisha Griffin; marketing of salmon; seasonal nature of salmon fishing; care of nets; influence of berth location & weather on salmon catch.
June 25, 1973: Wade talks about other fish caught in salmon nets, monkfish, pollock, shad; effect of seals on salmon fishery; use of killicks; use, manufacture, and maintenance of salmon nets; diagram and description of salmon weir; story about whale entangled in salmon nets; financial aspects of salmon fishing; trawling for cod, haddock, and hake; fishing on the Penobscot River.
August 1, 1973: Wade details his work on a Penobscot Bay lumber schooner, 1911-1915; loading lumber; the schooner, the Livelihood, built in Deer Isle by Mr. Billings; freight rates and profits; other cargoes; typical activities on board and living quarters; combination of sail and engines in river sailing; loading and unloading of cargo; Bangor as a lumber port. Also discusses function of spring pole and head buoys in salmon nets; river driving of lumber; sorting of logs; boom work.
August 9, 1973: Wade describes trade aboard a Penobscot Bay coasting schooner; lumber trade, types of lumber carried; lime trade in kiln wood and kiln rock; lime kilns in Campden, Rockport, Rockland, Lincolnville; coastal trade in granite from Stonington, Hurricane Island, Vinalhaven. St. George, Franklin; loading granite; dangers of navigation and advantages/ disadvantages of various cargoes, differences in schooner models; cost & types of sails; full description of living quarters; cooking & supplies on schooner; decline of coastal trade; discussion of pinkys; used for hand-lining; why no longer built.
NA0765 Newell Perry and George Page, interviewed by David Taylor, spring 1973, at Perry's home in Winterport, Maine. Accession includes 2 detailed maps of the Penobscot River between Verona and Orrington. Penobscot Bay Fisheries and Industries Project, Penobscot Marine Museum.
June 8, 1973: Perry discusses smelt fishing on the Penobscot River near Prospect; construction, setting, mending, and hauling of nets; effect of tide on catch; smelting season and daily catch; fishing crews, his own included his father, Earl Baker, Ernest Johnson, and Eddie Locke; other smelt fishermen, Calvin Young and George Page; marketing and storing smelt; smelting clothing; describes scows and their gear; navigating at night; grappling buoys; catching smelt with dip nets; and fishing for herring on Vinalhaven in 1948. June 15, 1973: Perry and Page of Brewer talk about winter smelt fishing; freezing of the Penobscot River; state laws; fishing through the ice; maintenance, size, and price of nets; fishing camps; storage, packing, and marketing of smelt; Page's partner Chet Neally; "Boston boat" and maritime trade on the Penobscot River; stories about head lice and bed bugs.
NA0766 Earl Baker and wife, interviewed by David Taylor, June 18, 1973, at Baker's home in Winterport, Maine. Penobscot Bay Fisheries and Industries Project, Penobscot Marine Museum. The Bakers discuss commercial smelt fishing; fishing camps; smelt netting; smelting on Verona Island; hauling, setting, and maintaining nets; the smelting season; financial aspects of smelt fishing; story about Jim Jepson, fisherman and storyteller; building, maintenance, and use of scows; differences between ice fishing and frame fishing; marketing smelt; use of horses; use and setting up of frames, watch buoys, and gear units.
NA0767 Walter Trundy, interviewed by David Taylor, June 27 and July 3, 1973, at Trundy's home in Stockton Springs, Maine. Trundy was Town Clerk of Stockton Springs from 1907 up to and including time of interview. Penobscot Bay Fisheries and Industries Project, Penobscot Marine Museum.
June 27, 1973: Trundy talks about life in Stockton Springs around 1900; fish and clams; Great Depression; experiences as a storekeeper; shipping out of Stockton Springs; hippies; local sea captains including Captain Eliot and Captain Hitchman; lumber coasting; economic development of Stockton Springs; sardine factory; ship builders, including Zebra Crooker; doctors.
July 3, 1973: Trundy discusses sea captains; ship launches; ship building during World War One; shipbuilders Zebra Crooker and Emery and John Wardwell; his great-grandfather Joseph Plumb Martin, Revolutionary War soldier; story about Captain Horace Griffin winning the lottery; Stockton Springs barber Levi Griffin; village on Cape Jellison; Stockton Springs policeman Bill Staples; failure of Stockton Springs as a shipping port; docks built and destroyed by fire; railroad line.
NA0768 Ernest Maloney, interviewed by David Taylor, July 16, 1973 and January 3, 1974, at Maloney's home in Port Clyde, Maine. Penobscot Bay Fisheries and Industries Project, Penobscot Marine Museum.
July 16, 1973: Maloney discusses lobstering; lobster fishing licenses; clamming and clam factories; marketing lobsters; lobster boat engines; vessels used for lobstering, sail and power; dory and pea pod boats; trawling; seiners, including Bert Simmons; boundary maintenance; trap wars; living and fishing on islands; trap design and materials, ballast, bait, and buoys; winter fishing; and fishing expenses.
January 3, 1974: Maloney talks about dory and sloop use; lobstering off Monhegan; sail versus power boats; Friendship sloops; overnighting on the sloop; maintenance of sloop and sails; two-header and three-header traps; building traps; Albion, Charles, Jonah, and Wilbur Morse who built sloops; size limits on lobsters; marketing lobsters; smacks came from Boston and Maine to buy lobsters.
NA0769 Sidney N. Sprague, interviewed by David Taylor, July 5 and 12, 1973, at Sprague's home in Rockland, Maine.
July 5, 1973: Sprague discusses lobster pounds owned by the McLoon Lobster Co., duties and privileges of pound keepers; lobster fishing rights and territories at Metinic Island, Matinicus Island, North Haven, Vinalhaven, Monhegan Island, Green Island, Camden, Rockland, Rockport, Spruce Head; lobster tagging; trap wars; harassment of outsiders and newcomers; clamming territories; building and maintaining lobster pounds; keeping lobsters alive in the pounds, lobster disease "Red Tail."
July 12, 1973: Sprague talks about lobster fisherman Gooden Grant; Isle Au Haut fishermen, fishing areas; sites of lobster pounds around Penobscot Bay; pound operator Ladd Simmons; building and financing pounds; Oliver Perry knowledgeable pound constructor; maintenance of pounds and lobsters; defines chicken lobster; barrel making; sizes of barrel for shipping lobsters; McLoon ice houses and packing lobsters; use and building of scows; marketing of lobsters; fish flakes; rum running.
NA0770 Phillip Raynes, interviewed by David Taylor, July 5, July 25, and August 14, 1973, at Raynes' home in Camden, Maine.
July 5, 1973: Raynes talks about his grandfather, a Grand Banks fisherman; also hand-lined in Penobscot Bay; and cooked aboard a fishing schooner. Raynes describes gill netting with his father; first fishing experiences; coot and duck shooting; trawling hand-lines; buoys and killicks on trawl lines; trawling bait; effects of pollution on the fishery; stopped trawling in the 1930s and began lobstering; boat and equipment for lobstering; marketing herring; lobster fishing laws; decline in salt fish business.
July 25, 1973: Raynes talks about numbers, designs, and building of lobster traps; Matinicus Island; storms; changes in rope and heading material; preserving traps; ballasting traps; bait spears, lines, and bags; types and source of bait; types of buoys, Styrofoam versus cedar; lobster hatchery; management of Maine's lobster fishery.
August 14, 1973: Raynes discusses Gooden Grant's house on Isle Au Haut; types of bait, fresh versus salted; relationships between fishermen; Lincolnville, Camden, Rockport, Rockland, Green Island, Metinic Island, Monhegan Island fishing areas; trap wars on Matinicus Island; industry in Camden, especially lime kilns; marketing lobsters; typical day of fishing; women lobster fishers; trawl line.
NA0771 Henry Walls, interviewed by David Taylor, July 13, 1973, Vinalhaven Island, Maine. Walls talks about working in his grandfather's store on Vinalhaven Island in the early nineteenth century; eel grass in the coves and harbors; catching flounder for lobster bait; lobster buoy shape, color, and markings; building and baiting lobster traps; differences between parlor and common traps; double-ended lobster boat; advantage of rowing over engine power; sardine and herring weirs and seiners; whale sighting near Hurricane Island; other fish and shellfish caught in the lobster traps; number of traps set; dogfish as a nuisance to fishermen; granite quarries on Hurricane and Vinalhaven Islands; changes in winter clothing for lobstering; marketing of lobsters; Sid Sprague and Hi Smith, lobster buyers. RESTRICTED.
NA0772 Dan McLain, interviewed by David Taylor, 17 and July 26, 1973 at his home in Round Pond, Maine, about his fishing career.
July 17, 1973: McLain discusses trawling and hand lining for ground fish including gear, crew, techniques, market; fishing on Georges Banks; beam trawlers; nets; foreign vessels; best areas and seasons; competition among vessels; lobstering; boat builders.
July 26, 1973: McLain discusses skippering a lobster smack (sailboat with wells for live storage of lobsters bought from lobstermen) for the I. C. Harvey Lobster Co.; the boat, crew, work routine, and economics of smacking; pogey fishing for N. B. Church; pogey boats, seines and other gear; crew; fishing areas and season; decline of pogey fishery.
NA0773 Gooden Grant, interviewed by David Taylor, July 11, and August 10, 1973, Stonington, Maine.
July 11, 1973: Grant discusses catching lobsters with hoop nets and traps; Isle au Haut lobster factory; selling to lobster smacks; mackerel seining; culling board and sizes of marketable lobsters; pogey fishing with father; steam trawlers in pogey fishery; running lobster smacks for McLoon Lobster Co.; Friendship sloops; farms on Isle au Haut; dory factory at Bucksport; Tom Nickerson; fishing the Grand Banks; gear and techniques for trawling from a dory; salting fish on board schooner; power boats; liquor and drinking; going to the West Indies in square riggers. Grant was in Havana harbor for the sinking of the battleship Maine, which began the Spanish-American war.
August 10, 1973: Grant discusses camp meetings; life on Isle au Haut including father's store, lobster factory, shipyard, and rusticators; Friendship sloops; early lobster traps; cooperation among Isle au Haut fishermen; winter fishing; lobster bottoms; singing and dancing aboard ship; and rum running.
NA0774 Lewis Stubbs, interviewed by David Taylor, August 22, 1973, at Stubb's home in Winterport, Maine. Stubbs discusses seasonal employment, fish in winter and lumber mill rest of the year; loading lumber schooners; smelt fishing on the Penobscot River; bag nets and gill nets; daily routine of fishing; setting and maintaining nets; location of and entertainment in fishing camps; fishermen's mittens; Newell Perry; fish sleds; storing, packing, and marketing smelt; comparison of scow and pole fishing for smelt; gill netting techniques, materials, cost; story about Frank Perry; eel fishing with traps and spears.
NA0775 Maurice Mayhew, interviewed by David Taylor, August 29, 1973, at Mayhew's home in Winterport, Maine. Mayhew talks about smelt fishing on the Penobscot River; fishing with Earl and Willis Baker and Mr. Bolin; hauling and setting nets; getting his start in the 1920s; packing smelt; fishing camps; fishing berths; cutting wood in the winter; Bert Alley who fished through the ice near Frankfort; smelt fishing gear and nets; smelt scows, building and maintenance; marketing smelt; eel fishing.
NA0776 Vincent Hincks interviewed by David Taylor on September 30, 1973, at Hincks' home in Orrington, Maine. Hincks discusses commercial eel fishing on the Penobscot River; construction of eel weirs; building, baiting, setting, hauling, and maintaining eel traps; "Cannonball" Baker, eel fisherman; marketing and storing eels.
Keywords
Fishing industry, Lobster industry, Fisheries gear selectivity
Disciplines
Folklore | Oral History
Size of Collection
13 items
Dates of Collection
1973-1974
Recommended Citation
Special Collections, Raymond H. Fogler Library, University of Maine, "MF047 "Penobscot Bay Fisheries and Industries Project"" (2020). Northeast Archives of Folklore and Oral History Finding Aids. Number 21.
https://digitalcommons.library.umaine.edu/ne_findingaids/21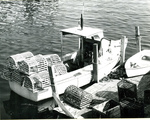 Included in