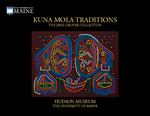 Files
Download KunaMola_Intro.pdf (348 KB)
Download KunaMola_plates1-10.pdf (1.4 MB)
Download KunaMola_plates11-20.pdf (1.3 MB)
Download KunaMola_plates21-30.pdf (1.6 MB)
Download KunaMola_plates31-40.pdf (1.7 MB)
Download KunaMola_plates41-50.pdf (1.5 MB)
Download KunaMola_plates51-60.pdf (1.5 MB)
Download KunaMola_plates61-70.pdf (1.2 MB)
Description
Jane Gruver, the Mola Lady, collected these molas between 1964 and the present to document the tradition and its evolution. Jane had a keen eye for selecting works that were well executed and artistic, but also documented the world of the Kuna and their traditions. These molas were set aside by Jane and were destined as a museum collection. They are now among the holdings of the Hudson Museum and join other molas donated by Jane.
Molas are reverse applique panels made in pairs for the front and back of women's blouses. Several layers of cloth are stacked together and the design is made by cutting through the different layers of fabric to expose the desired color. Once the specific shape is achieved, the area is stitched around. Sometimes embroidery and applique are also used to add detail.
When Kuna women get tired of their mola blouses, they make new panels with designs that suit their fancy. Their "old" blouse is taken apart and the mola panels end up as art. Some are acquired by passengers of cruise ships; others are sold in Panama City or tourist spots in the region. What makes Jane's collection unique is that she knew many of the women who made these molas and the "hidden" meaning of the designs–which is not typical for most molas.
Keywords
Kuna Molas, Jane Gruver Collection, Hudson Museum, University of Maine
Disciplines
Anthropology | Fine Arts | Folklore | Social and Cultural Anthropology
Recommended Citation
Gruver, Jane, "Kuna Mola Tradition: The Jane Gruver Collection" (2014). Molas Collection. 2.
https://digitalcommons.library.umaine.edu/molas/2