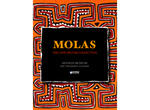 Description
For over 40 years, Jane Gruver, "the Mola Lady," and her husband Dr. Daniel Gruver lived and worked among the Kuna of the San Blas Islands of Panama. Jane acquired a deep appreciation and understanding of Kuna mola making and collected the molas presented here to document this tradition. Beginning in 1994, she began to donate molas to the Hudson Museum as a way of recording this artform and the lifeways of the Kuna for the future.
Molas are reverse appliqued fabric panels made to adorn women's blouses and were probably derived from body painting of the pre-Conquest era. The design motifs range from local flora, fauna, and sealife to everyday scenes, Kuna legend and myth, magazine ads, political posters, and scenes taken from books. Through these images, the Kuna capture their world in vibrant color.
For Jane a good mola is one that has a pleasing design and is well sewn. The image fills the entire design field. Molas may include some applique work and embroidery, but the majority of the handiwork must be done in a reverse applique technique. Molas generally feature unusual color combinations that provide high contrast between the different design elements in the mola.
Jane worries about the perpetuation of this tradition as more and more Kuna move from the Islands to Panama City and assimilate into the urban environment. Her search for traditional molas takes her to more isolated islands where women have not abandoned traditional dress. Here mola blouses continue to be made, worn and then recycled into mola panels which share the Kuna world with us.
Publisher
Hudson Museum, University of Maine
Keywords
molas, Kuna Indians, Kuna mythology, San Blas Islands, Panama, fabric art
Disciplines
Anthropology | Fine Arts | Folklore | Social and Cultural Anthropology
Recommended Citation
Gruver, Jane, "Molas: The Jane Gruver Collection" (2013). Molas Collection. 1.
https://digitalcommons.library.umaine.edu/molas/1