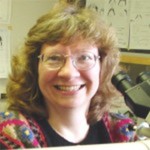 Files
Description
2750 Ann Dieffenbacher-Krall, interviewed by Adam Lee Cilli, January 22, 2014, in her office in Murray Hall at the University of Maine, Orono. Dieffenbacher-Krall talks about working with other members of the Climate Change Institute, particularly her adviser George Jacobson; conducting research on lake cores in New Zealand; her research methods; the reality of anthropogenic climate change; and the opportunities for interdisciplinary research offered by the CCI.
Text: 7 pp. transcript
Recording: mfc_na2750_audio001 36 minutes
Photo provided by the Climate Change Institute.
Publication Date
1-22-2014
Publisher
Northeast Archives of Folklore and Oral History
Keywords
Climate Change Institute, climate change, New Zealand, lake cores
Disciplines
Environmental Indicators and Impact Assessment
Recommended Citation
Dieffenbacher-Krall, Ann, "NA2750 Ann Deiffenbacher-Krall, interviewed by Adam Lee Cilli" (2014). MF192 Climate Change Institute 40th Anniversary Oral History Project. 9.
https://digitalcommons.library.umaine.edu/mf192/9