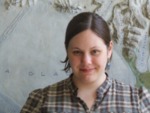 Files
Description
NA2746 Jacquelyn Gill, interviewed by Adam Lee Cilli, March 27, 2014, in her office in Sawyer Hall at the University of Maine, Orono. Gill talks about her transition from the humanities to paleoecology; her research; her upcoming research trip to the Falkland Islands; her passion for outreach, particularly to women in science; the relationship between gender and the pursuit of science; the contributions of the Climate Change Institute; and her experiences as a young woman in the CCI.
Text: 8 pp. transcript
Recording: mfc_na2746_audio001 38 minutes
Photo provided by the Climate Change Institute.
Publication Date
3-27-2014
Publisher
Northeast Archives of Folklore and Oral History
Keywords
Climate Change Institute, climate change, paleoecology, Falkland Islands
Disciplines
Ecology and Evolutionary Biology
Recommended Citation
Gill, Jacquelyn, "NA2746 Jacquelyn Gill, interviewed by Adam Lee Cilli" (2014). MF192 Climate Change Institute 40th Anniversary Oral History Project. 6.
https://digitalcommons.library.umaine.edu/mf192/6