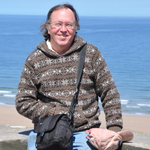 Files
Description
NA3996 Joseph Kelley, interviewed by Adam Lee Cilli, September 18, 2013, in his office in Bryand Hall at the University of Maine, Orono. Kelley talks about his graduate research on salt marshes; his later work with the Maine Geological Survey; his beginnings at the Climate Change Institute; his interdisciplinary research with Harold Borns and others on the sea-level rise in coastal Maine; the CCI's 2000 name change; the reality of anthropogenic climate change; and the history of the CCI.
Text: 9 pp. transcript
Recording: mfc_na3996_audio001, mfc_na3996_audio002 43 minutes
Photo provided by the Climate Change Institute.
Publication Date
9-18-2013
Publisher
Northeast Archives of Folklore and Oral History
Keywords
Climate Change Institute, climate change, salt marshes, Maine Geological Survey, anthropogenic climate change, sea-level rise, Maine, University of Maine
Disciplines
Environmental Indicators and Impact Assessment | Geology
Recommended Citation
Kelley, Joseph, "NA3996 Joseph Kelley, interviewed by Adam Lee Cilli" (2013). MF192 Climate Change Institute 40th Anniversary Oral History Project. 16.
https://digitalcommons.library.umaine.edu/mf192/16