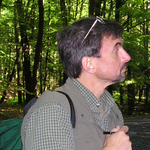 Files
Description
2753 Ivan Fernandez, interviewed by Adam Lee Cilli, September 19, 2013, in his office in Deering Hall at the University of Maine, Orono. Fernandez talks about the beginnings of his career in soil science; the nature of his research; his collaborative research with Steven Norton; changes in the Climate Change Institute over the years; the CCI's contributions; the reality of anthropogenic climate change; and the importance of public outreach in informing policy.
Text: 8 pp. transcript
Recording: mfc_na2753_audio001 44 minutes
Photo provided by the Climate Change Institute.
Publication Date
9-19-2013
Publisher
Northeast Archives of Folklore and Oral History
Keywords
Climate Change Institute, climate change, soil science
Disciplines
Environmental Indicators and Impact Assessment | Soil Science
Recommended Citation
Fernandez, Ivan J., "NA2753 Ivan Fernandez, interviewed by Adam Lee Cilli" (2013). MF192 Climate Change Institute 40th Anniversary Oral History Project. 12.
https://digitalcommons.library.umaine.edu/mf192/12