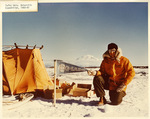 Files
Download Transcript of NA2742 Harold "Hal" Borns, interviewed by Pauleena MacDougall and Adam Lee Cilli. (159 KB)
Download Photo: H. W. Borns, R. Bonnett, R. P. Goldthwait, and L. Washburn at the terminus of Kaskawulsh Glacier, P12767. (1.8 MB)
Download Photo: Bradford A. Hall (University of Maine), Harold W. Ball (British Museum), Harold K. Brooks (University of Florida), and Harold W. Borns, Jr. (University of Maine). University of Maine Antarctic Expedition, 1971-1972, P12768. (1.3 MB)
Download Photo: Tufts University Antarctic Expedition 1960 - 1961. Robert Nichols, A. 1927; Harold Borns, A. 1951; George Denton, A. 1961; Roger Hart, A. 1962; Parker Calkin, A. 1953; and (absent from photo) Ellory Schempp, A. 1962, P12769. (1.8 MB)
Download Photo: University of Maine Antarctic Expedition 1968-69 Richard E. Dodge, A. 1969; William S. Brown, A. 1969; Bradford A. Hall, A. 1955; and Harold W. Borns, P12770. (1.8 MB)
Download Photo: University of Maine Antarctic Expedition, 1977-78. S. A. Norton; R. C. Glenn; Harold W. Borns, Jr.; and J. S. Kite, P12771. (3.0 MB)
Download Photo: Harold W. Borns, Jr., on the Tufts University Antarctic Expedition, 1960-61, P12772. (1.6 MB)
Download Photo: Tufts University Antarctic Expedition 1960-1961. Harold W. Borns, Jr., A. 1951; Robert L. Nichols, A. 1926; and George H. Denton, A. 1961, P12773. (2.8 MB)
Description
NA2742 Harold "Hal" Borns, interviewed by Pauleena MacDougall and Adam Lee Cilli, July 25, 2013, in his office in Sawyer Hall at the University of Maine, Orono. Borns talks about the beginnings of his career in geology; his interest in glaciers; his early years at UMaine; founding the Climate Change Institute; obtaining funding; the definition of "quaternary"; conducting research in Maine and Antarctica; and the reality of anthropogenic climate change.
Text: 12 pp. transcript
Recording: mfc_na2742_audio001 61 minutes
Photos: P12767 - P12773, P14029 - P14033 (photographs provided by H. Borns)
Rights and Access Note
This Item is protected by copyright and/or related rights. You are free to use this Item in any way that is permitted by the copyright and related rights legislation that applies to your use. In addition, no permission is required from the rights-holder(s) for educational uses. For other uses, you need to obtain permission from the rights-holder(s).
Publication Date
7-25-2013
Publisher
Northeast Archives of Folklore and Oral History
Keywords
glaciers, geology, University of Maine, Climate Change Institute, Antarctica, Maine, climate change, quaternary
Disciplines
Environmental Indicators and Impact Assessment | Geology | Glaciology
Recommended Citation
Borns, Harold W. Jr., "NA2742 Harold "Hal" Borns interviewed by Pauleena MacDougall and Adam Lee Cilli" (2013). MF192 Climate Change Institute 40th Anniversary Oral History Project. 1.
https://digitalcommons.library.umaine.edu/mf192/1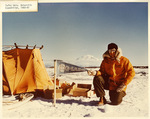 Rights Statement