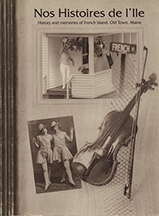 In the early 1990s, a community-based oral history project was co-sponsored by the Maine Folklife Center and the Franco-American Center at the University of Maine. The project generated a series of 35 oral history interviews focusing on the culture and history of the French-Canadian immigrant community located on French Island, Old Town, Maine. The project resulted in the book
Nos Histoires de L'île: History and Memories of French Island, Old Town, Maine
(1999) published by the community group of the same name. The book includes some of the over 1,000 photographs collected by the organization, interview excerpts, and articles. For images included in the publication, please visit the book's companion website,
Nos Histoires de L'île: Our Stories of the Island
. Founding members of Nos Histoires de L'île are James Bishop, Benoit Bouchard, Reta Graham, Harold Lacadie, Albert Michard, Albert Morin, Amy Morin, Bernice Morin, Carol Nichols, Cecile Pietrowski, Adeline St. Louis, and Genie Wollstadt, many of whose voices may be heard in this collection of oral interviews.
Printing is not supported at the primary Gallery Thumbnail page. Please first navigate to a specific Image before printing.