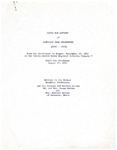 Description
Copies of letters written by Chadbourne to his father Humphrey Chadbourne, his sister and brother-in-law Mr. and Mrs. Osman Warren, and his sister Harriet Warren of Macwahoc, Maine. Letters were written from Bangor, Maine; Newport News, Va.; Baton Rouge, La.; Donaldsonville, Port Hudson, etc., and describe his service in the 22nd Maine Regiment. Date from his enrollment in Bangor, September 10, 1862 in the Twenty-Second Maine Regiment Infantry Company E until his discharge August 14, 1863.
Typescript also includes two pages of text copied from the 1882 edition of History of Penobscot County about the 22nd Regiment Infantry.
Danville Shaw Chadbourne was born in 1843 in Macwahoc, Maine, the son of Humphrey and Susan Hayden Chadbourne. He married Anna Orcutt in 1872 and was the father of Ava Harriet Chadbourne, Maine author and professor of education at the University of Maine. Danville Chadbourne died in 1920 at Mattawamkeag, Maine.
Keywords
United States Army, Maine Infantry, 22nd Regiment, Civil War
Disciplines
History | Military History
Recommended Citation
Chadbourne, Danville Shaw, "SpC MS 1543 sc, Civil War Letters of Danville Shaw Chadbourne" (1862). 19th Century Maine. 4.
https://digitalcommons.library.umaine.edu/manuscripts_19th_century/4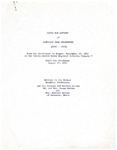 Included in
Rights Statement