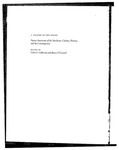 Files
Download
Download Full Text PDF (762 KB)
Description
In late September 1820, hoping to lay claim to territory then under dispute between Great Britain and the United States, Governor William King of the newly founded state of Maine dispatched Major Joseph Treat to survey public lands on the Penobscot and Saint John Rivers. Traveling well beyond the limits of colonial settlement, Treat relied heavily on the cultural knowledge and expertise of John Neptune, lieutenant governor of the Penobscot tribe, to guide him across the Wabanaki homeland... The groundwork for cooperation between Treat and Neptune [was] laid during the 1820 treaty negotiations in which both men participated and which were successfully concluded just over a month before their expedition departed from Bangor, Maine. -- Description adapted from University of Massachusetts Press
Edited with an introduction by Micah A. Pawling, Ph.D., Assistant Professor of History and Native American Studies, University of Maine.
"Appendix : 1820 Treaty Negotiation between the Penobscot Indian Nation and Maine" posted in DigitalCommons@UMaine with permission of the author and of University of Massachusetts Press, Amherst.
Rights and Access Note
This Item is protected by copyright and/or related rights. You are free to use this Item in any way that is permitted by the copyright and related rights legislation that applies to your use. For other uses you need to obtain permission from the rights-holder(s).
Publisher
University of Massachusetts Press
City
Amherst, Massachusetts
Keywords
Wabanaki settlements, Maine statehood, Land surveys
Disciplines
United States History
Recommended Citation
Treat, Joseph and Pawling, Micah A., ""Appendix : 1820 Treaty Negotiation between the Penobscot Indian Nation and Maine" from Wabanaki Homeland and the New State of Maine: The 1820 Journal and Plans of Survey of Joseph Treat" (2007). Maine Bicentennial. 81.
https://digitalcommons.library.umaine.edu/mainebicentennial/81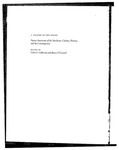 Included in
Rights Statement