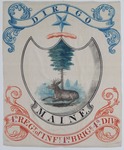 Description
Following Maine's separation from Massachusetts in 1820, state officials were required to return all militia flags and other ceremonial paraphernalia to Massachusetts. As a result, Maine's Adjutant General and Acting Quarter Master Samuel Cony was required to provide new flags to approximately 100 civilian militia companies across the state.
Cony devised the first-known mass production of militia flags by ordering the moose and pine tree design, originally painted by John Ritto Penniman of Boston, engraved onto a copper plate for the four-color lithographic process. The State Arms was printed twice on white silk for each flag and one print was appliquéd to the reverse of each flag. The design shows the shield of the Maine Arms with a White Pine Tree and a Recumbent Moose on white with the State Motto "Dirigo" on a ribbon above the North Star (with one point down) over a torse. Below, on another ribbon, is the name of the State, "Maine." This design was in use from 1822-1861.
Of the 100 original flags, it is estimated that 12 still exist. This example, in Special Collections at Fogler Library, University of Maine, served the 4th Regiment of Infantry, 1st Brigade, 4th Division. Dimensions of the silk flag are 65 cm x 54 cm.
Please see the research of David B. Martucci for additional information.
Rights and Access Note
Any use of this image should be accompanied by the following credit line:
Image courtesy of Special Collections, Raymond H. Fogler Library, DigitalCommons@UMaine, https://digitalcommons.library.umaine.edu/mainebicentennial/130/
Publisher
Annin and Smith
City
Boston, Massachusetts
Keywords
Maine Statehood, Militia Flag, State Militia Flags, Vexillology
Disciplines
American Art and Architecture | United States History
Recommended Citation
Maine Adjutant General, "Maine Militia Flag: 4th Regiment of Infantry, 1st Brigade, 4th Division" (1822). Maine Bicentennial. 130.
https://digitalcommons.library.umaine.edu/mainebicentennial/130
Rights Statement