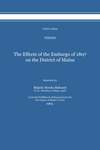 Files
Download
Download Full Text PDF (1.6 MB)
Description
The Embargo of 1807 was passed by the United States Congress on December 22nd 1807. It marked the culmination of American attempts to deal effectively with the warring powers of Europe and to prevent their depredations on American ships and seamen. With all foreign trade cut off and coastal trade increasingly difficult, much of Maine's economic life was at a standstill for the duration of the fourteen-month embargo. The restrictive laws came at a time the District of Maine was engaged in a profitable and growing trade with ports all over the world.
Rights and Access Note
This item is protected by copyright and/or related rights but no rights-holder(s) has been identified or located after some reasonable investigation. You are free to use this item in any way permitted by the copyright and related rights legislation that applies to your use but rights assessment remains the responsibility of the researcher.
Disciplines
United States History
Recommended Citation
Babcock, Blakely Brooks, "The Effects of the Embargo of 1807 on the District of Maine" (1963). Maine Bicentennial. 117.
https://digitalcommons.library.umaine.edu/mainebicentennial/117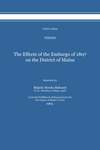 Included in
Rights Statement