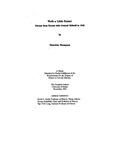 Description
Henrietta Thompson's thesis submitted in partial fulfillment of the requirements of the degree of Master of Arts in History from the University of Maine, December, 1992.
Thompson's abstract: This paper describes why and how from 1971 to 1974 I traced the members of a group of 114 men and women who, like hundreds of thousands of others, were fleeing from Burma after the Japanese invasion of that country in January, 1942. The group walked approximately two hundred and fifty miles from Burma to safety in India under the leadership of Lieutenant General Joseph W. Stilwell of the United States Army in May, 1942. This event became known as the Walkout.
Woven in to the narrative of my search are the recollections of those I interviewed, the Walkout participants and others even remotely connnected with the event. How the participants happened to be with General Stilwell, what the Walkout was like, and what became of them are described in their own words.
The paper includes a comparison of their journey with that of others who also walked out of Burma, and a comparison with other historical marches is made. The meaning of the Walkout to history, and its meaning to the participants are described, as well as what my search meant to me.
Disciplines
Asian History
Recommended Citation
Thompson, Henrietta, "Walk a Little Faster: Escape from Burma with General Stilwell in 1942" (1992). Henrietta Thompson Papers. 28.
https://digitalcommons.library.umaine.edu/henrietta_thompson_papers/28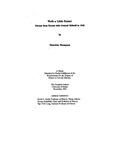 Included in
Rights Statement