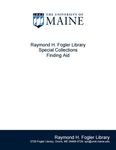 Files
Download
Download Collection Finding Aid (82 KB)
Description
The collection contains records of the Penobscot Paddle and Chowder Society, an organization in Bangor, Maine, for people interested in canoeing, kayaking and other outdoor activities. The materials center on environmental advocacy activities of the group in the 1970's.
The Society, organized in 1968-1969, is a family-oriented group which through its activities promotes interest in paddling, paddling instruction, river safety, and conservation. A volunteer organization, it seeks to make canoeing and kayaking safe, accessible, and fun. Its members come from throughout New England but are primarily from the Penobscot River area in central Maine. The Society sponsors paddling, hiking and cross-country skiing trips for its members as well as several meetings per year and dinners at which chowder is often served.
The Society is an affiliate member of the American Canoe Association and the Natural Resources Council of Maine. More information about the Society can be found at its website (www.paddleandchowder.org).
Keywords
Nature and Geography, Recreation and Tourism
Size of Collection
1 box (0.5 cubic feet)
Dates of Collection
1974-1976, bulk 1974-1976
Manuscript Number
SpC MS 0399
Recommended Citation
Special Collections, Raymond H. Fogler Library, University of Maine, "Penobscot Paddle and Chowder Society Records, 1974-1976" (2015). Finding Aids. Number 88.
https://digitalcommons.library.umaine.edu/findingaids/88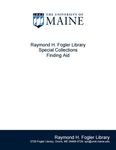 Included in