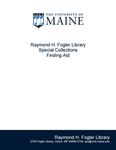 Files
Download
Download Collection Finding Aid (84 KB)
Description
The collection contains papers reflecting Allen Pierce's service as master on various vessels, 1850-1881. A small group of personal papers is also included.
The collection begins with correspondence, 1855-1884, most of it related to the shipping business. This is followed by a group of bills and receipts, both general and relating to a particular vessel; most are bills for ship stores, provisions and produce. A few are receipts for wages received by seamen aboard Pierce's vessels. The largest portion of the collection contains maritime documents arranged in alphabetical order by type of document: account books, articles of agreement, bills of health, bills of lading, charter party documents, insurance documents, manifests of cargo, and seamen's protection certificates. Most of the documents relate to the vessels Walter Howes and George E. Dale.
A small group of personal documents from Allen Pierce's life in Orrington ends the collection. These include school essays, essays about the Riverside Lodge of the International Order of Good Templars in Orrington, deeds and notes, writs and an account book belonging to Pierce's wife, Charlotte.
Size of Collection
1 box (1 cubic foot)
Dates of Collection
1848-1884, bulk 1853-1881
Manuscript Number
SpC MS 0408
Recommended Citation
Special Collections, Raymond H. Fogler Library, University of Maine, "Pierce (Allen B.) Papers, 1848-1884" (2015). Finding Aids. Number 84.
https://digitalcommons.library.umaine.edu/findingaids/84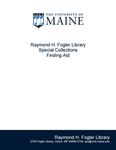 Included in