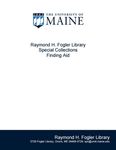 Files
Download
Download Collection Finding Aid (82 KB)
Description
The collection contains personal papers of Clarence C. Stetson. No papers from his career in government service are found in the collection.
The file of correspondence, 1919-1921, contains incoming and outgoing letters about Stetson's investments and other financial matters. The business correspondence folders deal primarily with management of his timberland holdings and tax, policy, and investment issues surrounding them. Correspondents include Merrill Griswold, Isaiah K. Stetson, and Charles Stetson, an attorney in Boston. The files of receipts, 1920-1921, are all for personal expenses and purchases, such as hotels, automobiles and clothing.
The collection ends with some information about Stetson inheritance matters, as well as a group of cancelled payroll checks, 1918, from I.G. Stetson and its lumber account.
Keywords
Business and Industry, Social Life and Customs
Size of Collection
2 boxes (0.7 cubic feet)
Dates of Collection
1909-1950, bulk 1920-1921
Manuscript Number
SpC MS 0481
Recommended Citation
Special Collections, Raymond H. Fogler Library, University of Maine, "Stetson (Clarence C.) Papers, 1909-1950" (2015). Finding Aids. Number 61.
https://digitalcommons.library.umaine.edu/findingaids/61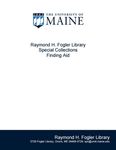 Included in