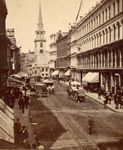 Files
Download
Download Collection Finding Aid (127 KB)
Description
The collection consists of printed documents and manuscript material collected by Paul E. Taylor; it reflects his wide-ranging interests and collecting habits. The collection is arranged in two series.
Series I, Printed Material, includes books, pamphlets, catalogs, advertisements, etc.;
Series II, Manuscript Material, contains original documents including diaries, letters, logbooks of vessels, scrapbooks, family papers, etc.
Each series is arranged alphabetically by author or if the author is unknown by title.
The published items are mostly concerned with the history of Maine, New England and New York; many were published in Maine or Massachusetts. The manuscripts are also primarily concerned with the history and literature of Maine, especially Kittery and Eliot, or with other areas of New England.
Keywords
Social Life and Customs
Size of Collection
7 boxes
Dates of Collection
1750-1953
Manuscript Number
SpC MS 0489
Recommended Citation
Special Collections, Raymond H. Fogler Library, University of Maine, "Taylor (Paul E.) Collection, 1750-1953" (2015). Finding Aids. Number 56.
https://digitalcommons.library.umaine.edu/findingaids/56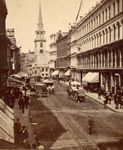 Included in