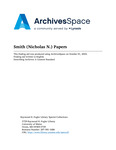 Files
Download
Download Collection Finding Aid (249 KB)
Description
Nicholas Smith was born in Malden, Massachusetts in 1926. He attended the University of Maine from 1946 to 1950 and receiving his BA in American History. He later attended Columbia University for his MA in Medieval/European history. Smith was passionate about the conservation of Native American history and the rights of the communities he worked closely with for well over 50 years.
While working with several of the tribes in Maine and the surrounding areas he was able to compile the largest computerized bibliography of the Wabanaki peoples (WABIB). The WABIB has the most complete source of materials pertaining to the Native Americans in Maine and the surrounding areas, and continues to be updated. Smith earned respect from academics, tribal leaders, and the museum community; eventually earning an honorary doctorate degree at the University of Maine for intellectual or creative achievement.
The collection includes photographs, publications, research, audiotapes, correspondence, and newspapers (including extensive run of Mi'kmaq News). Also includes the research pertaining to the creation of his bibliography of the Wabanaki tribes, the WABIB.
Keywords
Social Life and Customs, Race and Gender
Disciplines
History | Indigenous Studies | Native American Studies
Size of Collection
31 boxes (31 linear feet)
Dates of Collection
1879-2019
Manuscript Number
SpC MS 1788
Recommended Citation
Special Collections, Raymond H. Fogler Library, University of Maine, "Smith (Nicholas N.) Papers, 1879-2019" (2022). Finding Aids. Number 528.
https://digitalcommons.library.umaine.edu/findingaids/528