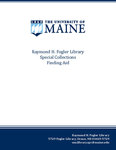 Files
Download
Download Collection Finding Aid (108 KB)
Description
Born in 1947, Gregory Buesing has worked professionally in public service, non-profit management, fundraising, advocacy, and law. He received a bachelor's degree from Wesleyan University in Middletown, Connecticut, an MBA from the University of Maine at Orono, and a JD from Northeastern University School of Law, and is a former member of the Massachusetts and California bars.
Buesing began working for the Passamaquoddy at Pleasant Point in 1967 on a volunteer project. After working for or with tribes in various capacities, he served on the Maine Advisory Committee to the United States Commission on Civil Rights at the time of its hearings on Maine Native Americans (in part while a student at the University of Maine) and staffed the Federal Regional Council Indian Task Force in Boston, leaving in 1980.
Papers, 1950-1982, collected by Gregory Buesing. Contains documents and clippings, as well as newsletters, newspapers, application documents, and conference proceedings pertaining to the Native American tribes of Maine.
Keywords
Government and Law, Race and Gender, Social Movements and Services
Disciplines
Indigenous, Indian, and Aboriginal Law | Native American Studies | Race, Ethnicity and Post-Colonial Studies
Size of Collection
4 boxes (4 linear feet)
Dates of Collection
1950-1982
Manuscript Number
SpC MS 1793
Recommended Citation
Special Collections, Raymond H. Fogler Library, University of Maine, "Buesing (Gregory) Papers, 1950-1982" (2022). Finding Aids. Number 523.
https://digitalcommons.library.umaine.edu/findingaids/523