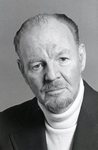 Files
Download
Download Collection Finding Aid (370 KB)
Description
Carroll Franklin Terrell was born in 1917 in Richmond, Maine. After receiving his undergraduate degree from Bowdoin College in 1940, Terrell entered the Army and served in World War II from 1941-1945, attaining the rank of captain. He began teaching at the University of Maine in 1948 and earned his master's degree from the University in 1950. He later earned a Ph.D. from New York University.
Carroll Terrell was an internationally recognized scholar on the poetry of Ezra Pound and served as president of the Ezra Pound Society. He was editor of the Man/Woman and poet series, founder and editor of Paideuma: A Journal Devoted to Ezra Pound Scholarship which was first published in 1972, and founder and editor of Sagetrieb; a journal devoted to poets in the Pound/H.D./Williams tradition. He organized a series of conferences on Pound's work held in 1975, 1980, 1985 and 1990, bringing world renowned scholars and poets to the University of Maine in addition to members of Pound's family. In 1984, Terrell published the second of two volumes entitled A Companion to The Cantos of Ezra Pound.
Terrell retired from the University of Maine in 1988. The Terrell House is a University of Maine owned building and was the residence of Terrell and his named in his honor. The house was donated to the University by Terrell. In 1993, Terrell published a memoir of his childhood entitled, Growing up Kennebec: A Downeast Boyhood. Terrell died in November 2003 in Bangor, Maine, at the age of 86.
The records mainly contain textual information created and curated by Carroll F. Terrell as well as photographic material and audio recordings of a conference on Ezra Pound held at the University of Maine in August, 1980.
Keywords
Languages and Literature
Disciplines
History | Literature in English, North America | Poetry
Size of Collection
29 boxes
Dates of Collection
1949-2001, bulk 1960-1990
Manuscript Number
UA RG 0011.054
Recommended Citation
Special Collections, Raymond H. Fogler Library, University of Maine, "Terrell (Carroll F.) Papers, 1949-2001" (2021). Finding Aids. Number 511.
https://digitalcommons.library.umaine.edu/findingaids/511