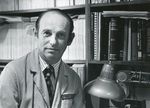 Files
Download
Download Collection Finding Aid (72 KB)
Description
Melvin (Mel) Gershman was born in 1927. He received a M.Sc. Degree in 1957 from the University of Massachusetts and came to the University of Maine in 1958 as an assistant professor of microbiology and animal pathology. In 1963, he was appointed full professorship and in 1977 he became Professor of Microbiology and Animal Veterinary Sciences. Professor Gershman research focused on Enteric bacteria such as Salmonella and Escherichia Coli. His research led to the development of a Serotyping and Phage Typing Center at the University of Maine.
Gershman received numerous awards during his career, including in 1977 the University of Maine's Distinguished Maine Professor Award. An Honors College Scholarship awarded in Gershman's name was established in 1998. Gershman retired from the University of Maine in 1994 with emeritus status.
The records mainly contain textual information created and curated by Gershman, including many documents pertaining to his Committee work at the University of Maine.
Keywords
Education, Agriculture
Size of Collection
2 boxes
Dates of Collection
1959-1992
Manuscript Number
UA RG 0011.039
Recommended Citation
Special Collections, Raymond H. Fogler Library, University of Maine, "Gershman (Melvin) Papers, 1959-1992" (2020). Finding Aids. Number 484.
https://digitalcommons.library.umaine.edu/findingaids/484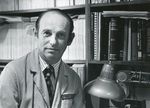 Included in