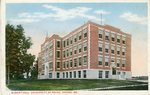 Files
Download
Download Collection Finding Aid (104 KB)
Description
The University of Maine Department of Chemistry offers both undergraduate and graduate programs in chemistry, including a Ph.D. program, the establishment of which is documented in these records. The Department is housed in Aubert Hall which was constructed in 1914 and named in honor of the first University of Maine chemistry professor, Professor Albert Aubert, who came to the University of Maine in 1874, and departed in 1909.
The majority of the records were created during the tenures of John William Beamesderfer (1952-1964) and James Langdon Wolfhagen (1964-1976) as chairs of the Department of Chemistry. There is also material from the tenures of Charles Andrew Brautlecht (1919-1935), Wilber Elmore Bradt (1936-1941), Irwin Bruce Douglass (1941-1952), and Raymond C. Fort (1985-1991).
This record group has material on proposals to the National Science Foundation for grants to fund the purchase of research instruments and the renovation of Aubert Hall.
Keywords
Education, Science and Technology
Size of Collection
1 half-size box, 1 quarter-size box
Dates of Collection
1930-1992; bulk 1960-1980
Manuscript Number
UA RG 0006.003.003
Recommended Citation
Special Collections, Raymond H. Fogler Library, University of Maine, "Department of Chemistry (University of Maine) Records" (2020). Finding Aids. Number 475.
https://digitalcommons.library.umaine.edu/findingaids/475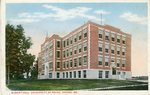 Included in