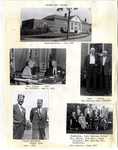 Files
Download
Download Collection Finding Aid (83 KB)
Description
Arthur E. Silver was born in 1879 at Silvers Mills, a rural neighborhood named for his grandfather in Dexter, Maine. He graduated from the University of Maine, class of 1902, with a B.S. degree. He received his doctor of engineering (an honorary degree) from the University of Maine in 1954. He was chief electrical engineer for Ebasco Services, Inc., formerly Electric Bond and Share Co. until his retirement in 1948.
In 1951, Silver received the Lamme gold medal award given by the American Institute of Engineering in recognition of his pioneering of rural electrification by designing a simplified farm-type transformer which lowered the cost of transmission to rural areas.
Silver was actively involved in organizing Class of 1902 reunions and in 1955 presented University of Maine President Arthur A. Hauck with a Class of 1902 History Volume.
This record group contains mostly textual information and photographs created and curated by Silver regarding the University of Maine Class of 1902. Includes copy of student handbook, various items regarding Class of 1902 events and reunions including programs, publications correspondence, photographs, and clippings.
Keywords
Education, Science and Technology
Disciplines
United States History
Dates of Collection
1901-1973
Manuscript Number
UA RG 0010.008
Recommended Citation
Special Collections, Raymond H. Fogler Library, University of Maine, "Silver (Arthur E.) Class Of 1902 Records, 1901-1973" (2018). Finding Aids. Number 428.
https://digitalcommons.library.umaine.edu/findingaids/428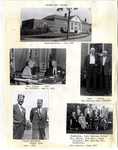 Included in