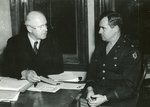 Files
Download
Download Collection Finding Aid (119 KB)
Description
During the 1940s, the University of Maine was one of many U.S. colleges and universities to offer tuition-free summer courses under the Engineering, Sciences, and Management Defense Training Program, funded by the U.S. Office of Education.
The classes were for high school graduates not planning to attend college and were intended to train students in defense activities in order to fill urgently needed technical and scientific civilian positions just prior to and during U.S. involvement in World War II.
These records include general information regarding the Program, U.S Office of Education reports, forms, publicity material, details of course offerings, professor's notes on courses/lectures, enrollment reports, manuals, maps, final proposals for courses submitted to the U.S Office of Education, photographs, and correspondence with course instructors regarding courses.
Keywords
Education, Military and War
Size of Collection
9 boxes, 1 half-size box
Dates of Collection
1940-1945
Manuscript Number
UA RG 0007.014
Recommended Citation
Special Collections, Raymond H. Fogler Library, University of Maine, "Engineering Science And Management Defense Training Program (University of Maine) Records, 1940-1945" (2018). Finding Aids. Number 419.
https://digitalcommons.library.umaine.edu/findingaids/419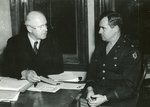 Included in