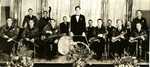 Files
Download
Download Collection Finding Aid (125 KB)
Description
Rudy Vallée was one of the most popular vocalists of the pre-swing era. With his megaphone and nasal voice, he will forever be remembered as the archetypal image of the early crooners. Born in Island Pond, Vermont, in 1901, Hubert Prior Vallée grew up in Westbrook, Maine, and earned the nickname 'Rudy' in college for his love of saxophone player, Rudy Wiedeoft.
Samuel P. Bates and his wife Shirlee were friends with Rudy Vallée and his wife Eleanor. While it's unknown how the couples came to know each other, it is possible Sam and Rudy met at 3M while Rudy was featured in some advertisements. A U.S. Army veteran, Samuel P. Bates enlisted in August 1952 in Pittsburgh and was discharged in August 1954 in Ft. Eustis, Va. Sam worked for 3M for 36 years, the last 16 years as director of public relations for 3M International and traveled to more than 60 countries and six continents.
This collection includes memorabilia, recordings, correspondence, and photographs documenting the relationship between Samuel P. Bates and his family with Rudy Vallée and his wife Eleanor.
Disciplines
Music | United States History
Size of Collection
2 boxes (1.5 linear feet)
Dates of Collection
1914-1990
Manuscript Number
SpC MS 1777
Recommended Citation
Special Collections, Raymond H. Fogler Library, University of Maine, "Bates (Samuel P.) Collection on Rudy Vallée, 1914-1990" (2018). Finding Aids. Number 413.
https://digitalcommons.library.umaine.edu/findingaids/413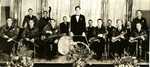 Included in