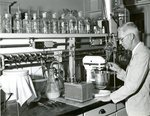 Files
Download
Download Collection Finding Aid (90 KB)
Description
Matthew Edward Highlands was a pioneer in the food processing industry. He was born on June 19, 1905 in Huntington, Indiana, but would relocate to Maine and attend school in Berwick, Maine. Highlands attended the University of Maine and graduated in 1928 with a degree in bacteriology. In 1943, Highlands earned a master's degree in food technology from the Massachusetts Institute of Technology (MIT).
In 1936, Highlands was appointed an assistant professor in bacteriology and food technology at the University of Maine. Highlands would stay in this position until 1942 when he entered the U.S. Army's World War II efforts as a lieutenant and branch chief of Dehydrated Products Branch of the Army's Subsistence Research Laboratory based in Chicago. Highlands returned to the University of Maine in 1947 as a food technologist in Cooperative Extension, a position he held until 1955 when he was appointed the head of the Department of Food Processing. In 1960, Highlands founded the University of Maine's Department of Food Sciences. Highlands died in 2003.
The records mainly contain textual information created and curated by Professor Matthew E. Highlands, but there are also photographs of his family, time in the U.S. Army, and of his mentor Samuel Cate Prescott who was the head of MIT's Department of Biology and Public Health.
Keywords
Education, Science and Technology
Size of Collection
1 box, 1 half-size box, 1 over-sized folder
Dates of Collection
1800s?-2003, bulk 1942-1970
Manuscript Number
UA RG 0011.003
Recommended Citation
Special Collections, Raymond H. Fogler Library, University of Maine, "Highlands (Matthew E.) Records, 1800s?-2003" (2018). Finding Aids. Number 394.
https://digitalcommons.library.umaine.edu/findingaids/394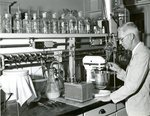 Included in