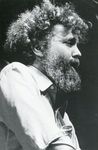 Maine Folklife Center (University Of Maine) Records, 1820-2016
Description
The Maine Folklife Center was founded in 1992 by University of Maine Professor of Folklore Edward D. "Sandy" Ives to integrate the operations of the Northeast Archives of Folklore and Oral History and the Northeast Folklore Society and to add in a public folklore component. Its mission is to document, interpret, present and preserve the folklore, folklife and oral history of Maine and Atlantic Canada, and encourage the appreciation of diverse cultures and heritage of the region.
The records mainly contains textual information created by the University of Maine's Maine Folklife Center, but there are also photographic material, audio recording on vinyl records, CDs, and cassettes, and also computer disks containing programming material.
This paper has been withdrawn.