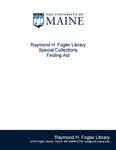 Files
Download
Download Collection Finding Aid (90 KB)
Description
The Wakefield family papers contain primarily the business records of O.H. Wakefield and his son, Ralph J. Wakefield, and reflect their involvement in the lumber business in Lowell, Maine.
The papers are arranged in two series: Papers of O.H. Wakefield and Papers of Ralph J. Wakefield. There are no sub-series.
The papers of O.H. Wakefield consist mainly of financial records, especially daybooks, 1884-1917, of activities in the general store and the lumber business. Ledgers, 1878-1890; a lumber book, 1879-1899, of lumber cut and sawed; and a memo book of spool bar accounts reflect Wakefield's primary occupation.
The papers of Ralph J. Wakefield are more extensive and focus primarily on his activities in buying lumber and selling lumber products. The series opens with information about Wakefield's assets and accounts, tax information, and leases and legal documents, 1920-1947. A section of correspondence, 1920-1945, follows. Correspondents include N.C. Fogg, Bangor, dealers in lumber, box shooks and pulpwood; Penobscot Snow Shoe Co., Milford, Maine; Johnson Lumber Co., Manchester, N.H.; and Old Town Canoe Co., Old Town, Maine. The letters discuss the needs of the companies for various wood products, the availability of these products, prices, etc.
A group of invoices, 1917-1949, contains bills to Wakefield for groceries, dry-goods, mill and lumbering supplies, machinery and equipment. Files of equipment catalogs contain information on a variety of mill and lumbering machinery and supplies. Daybooks and ledgers, 1904-1912, provide financial information about both the general store and the lumbering business. Files of lumber accounts and scalers' reports contain primarily Wakefield's notes about his lumber business.
The series ends with miscellaneous printed material belonging to Ralph Wakefield, most concerning the lumber business.
Keywords
Business and Industry
Size of Collection
1 archival record carton and 1 document box (0.4 linear feet)
Dates of Collection
1868-1962, bulk 1884-1940
Manuscript Number
SpC MS 0609
Recommended Citation
Special Collections, Raymond H. Fogler Library, University of Maine, "Wakefield Family Papers, 1868-1962" (2015). Finding Aids. Number 32.
https://digitalcommons.library.umaine.edu/findingaids/32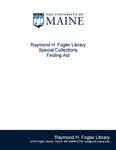 Included in