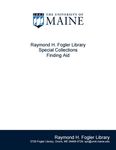 Files
Download
Download Collection Finding Aid (95 KB)
Description
The collection contains ledgers and maps of the timberland business owned by several generations of the Webber family. The ledgers include primarily correspondence and financial information. The maps provide information about the family's land holdings in northern Maine.
The ledgers are arranged by the company function they represent: executive, financial and production. The collection begins with copies of outgoing correspondence, 1955-1960, from G. Peirce Webber; much of it concerns acknowledgments of rent received for campsites on Webber land. Copies of deeds, permits, etc., follow, along with a scrapbook of newspaper clippings, 1903-1907, concerning land and lumbering.
The journals, 1928-1965, which make up a large part of the collection often list C.J. Webber as agent, presumably acting for other members of the Webber family in the management of their land holdings. C.P. Webber, Franklin R. Webber, R.B. Webber, M.P. Heald, C.J. Webber, T. Roscoe Webber, Anne W. Chase and Lucy R. Webber are all mentioned in various volumes. One of the journals records information about the estate of Charles P. Webber.
The maps are arranged chronologically with a section of undated maps at the end. Some of the maps were compiled by Charles P. Webber.
Keywords
Business and Industry
Size of Collection
4.2 linear feet of ledgers + 41
Dates of Collection
1895-1976, bulk 1909-1960
Manuscript Number
SpC MS 0619
Recommended Citation
Special Collections, Raymond H. Fogler Library, University of Maine, "Webber Family Papers, 1895-1976" (2015). Finding Aids. Number 31.
https://digitalcommons.library.umaine.edu/findingaids/31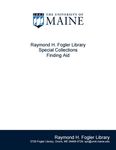 Included in