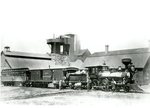 Files
Download
Download Collection Finding Aid (121 KB)
Description
David G. Smith, a resident of Camden, Maine, had a life-long interest in and connection to the Katahdin Iron Works area of Maine. The collection is arranged in two series:
Series I: Katahdin Iron Works Information Files, contains all of the material gathered by Smith during his life-long association with and interest in the KI region and its history.
Series II: Pine Knot Association Records, contains Smith's files about his activities in managing the finances and maintenance of the Pine Knot family camp at KI.
Keywords
Business and Industry, Social Life and Customs, Recreation and Tourism
Size of Collection
9 boxes (10 linear feet)
Dates of Collection
1888-1990
Manuscript Number
SpC MS 1533
Recommended Citation
Special Collections, Raymond H. Fogler Library, University of Maine, "Smith (David G.) Papers, 1888-1990" (2016). Finding Aids. Number 289.
https://digitalcommons.library.umaine.edu/findingaids/289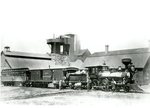 Included in