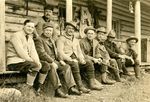 Files
Download
Download Collection Finding Aid (187 KB)
Description
The collection contains records of the William Tell Club kept by the organizers and members of the club. They include the papers of incorporation, bylaws and minutes of annual meetings, 1903-1941, plus a series of photograph albums from the annual trips to the lodge. The volumes of minutes also give listings of expenses for the hunting trips, records of yearly dues, cash on hand, and general expenses of the club. Membership records and a guest register are also included.
Of particular interest are the photograph albums, many entitled "Encampment of the William Tell Club," which were faithfully kept each year and given to club members. Dating from 1908-1933, most have the name George R. Hall stamped on the cover. Photographs show members engaging in a variety of activities, including getting on the train to go to the lodge and posing for a group picture, as well as more candid shots at camp of members singing, sleeping, playing cards, or posing with the results of their hunting excursions.
The collection also includes a series of letters written by club member George Bain to his future wife Mabel H. Estes of Portland, Maine. Dating from December 15, 1917 to March 30, 1918, they document Bain's military service at Camp Joseph E. Johnston in Jacksonville, Florida until he was ordered to the aviation field in West Point, Mississippi. They describe his daily life in the camp, including a quarantine for an outbreak of scarlet fever, and give the flavor of military life for a soldier on the home front. The Bain family papers also include a photograph album from 1915-1916 and a photograph entitled: First run of Ford Auto Club of Portland, Me., June 26, 1910.
Keywords
Recreation and Tourism
Size of Collection
3 archival record cartons (3.1 cubic feet)
Dates of Collection
1903-1950, bulk 1903-1933
Manuscript Number
SpC MS 0629
Recommended Citation
Special Collections, Raymond H. Fogler Library, University of Maine, "William Tell Club Records, 1903-1950" (2015). Finding Aids. Number 28.
https://digitalcommons.library.umaine.edu/findingaids/28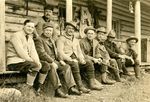 Included in