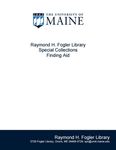 Files
Download
Download Collection Finding Aid (114 KB)
Description
Items in this collection include Trask's class assignments and a number of items related to campus life at the University of Maine. Trask saved several programs from campus activities including the Swarthmore Chautauqua Festival in 1925, Winter Carnivals from 1925-1926 and theater productions of the Maine Masque Club from 1925-1927.
Many of the charts, graphs, and reports were submitted as assignments for undergraduate courses. Several reports focus on operations of various manufacturing companies in Maine and New Hampshire and typically include information about the location of the facility, a floor plan, and an explanation of the workings and products of the company. Other assignments were prepared on general scientific topics and reflect the curriculum of courses in civil engineering, entomology, and forestry. These include daily temperature, wind velocity, and last frost dates for Orono, Maine; a draft survey of the area between Stillwater Avenue and the campus bicycle path; and lumber cut in the United States from 1850 to 1925.
Also included are writings and publications related to Trask's career in forestry.
Size of Collection
1 box, 1 oversized folder
Dates of Collection
1917-1970, bulk 1926-1936
Manuscript Number
SpC MS 1691
Recommended Citation
Special Collections, Raymond H. Fogler Library, University of Maine, "Trask, Henry O. Papers, 1917-1970" (2015). Finding Aids. Number 227.
https://digitalcommons.library.umaine.edu/findingaids/227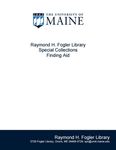 Included in