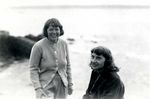 Files
Download
Download Collection Finding Aid (179 KB)
Description
Miriam Colwell was born in Prospect Harbor, Maine. She attended the University of Maine at Orono for a year, then moved to New York City. She returned to Prospect Harbor to become the town's postmaster at the age of 23. She published three popular novels set in Maine: Wind Off the Water (1945), Day of the Trumpet (1947), and Young (1955). Contentment Cove, written in the 1950s, was published in 2006.
Chenoweth Hall was born and raised in New Albany, Indiana. She left to attend the University of Wisconsin in Madison, Wisconsin where she received her degree in musicology. After graduation she moved to New York City. Her first job was teaching music in New Jersey elementary schools but she went on to become a copywriter in New York City advertising agencies. In 1939 she moved to the small coastal town of Prospect, Maine to devote her time to writing, painting and sculpture. There she became a noted art teacher, sculptor, and painter of landscapes in a modernist style influenced by John Marin and Marsden Hartley. Her paintings and sculpture soon began to be shown in numerous Maine exhibits, and eventually included exhibits in Boston, New York City and Philadelphia.
Miriam Colwell's mother's family, the Cole family, settled in the area of Prospect Harbor in the late 1700s.
Keywords
Social Life and Customs
Size of Collection
15 boxes (15 linear feet)
Dates of Collection
1817-2012
Manuscript Number
SpC MS 1727
Recommended Citation
Special Collections, Raymond H. Fogler Library, University of Maine, "Colwell Family Papers, 1817-2012" (2015). Finding Aids. Number 222.
https://digitalcommons.library.umaine.edu/findingaids/222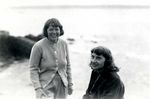 Included in