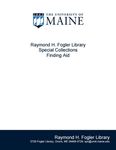 Files
Download
Download Collection Finding Aid (133 KB)
Description
Papers, 1773-1973, of the Greenwood family. Most of the family lived in Farmington, Maine or its environs and the majority of the papers originate from their businesses and interests in the area.
The earliest papers are from Joseph Greenwood of Dublin, NH. Joespeh was a leading citizen of Dublin, serving as Selectman, Treasurer, Town Clerk, schoolmaster, Justice of the Peace, and Representative to the First Provincial Congress of New Hampshire.
Nathaniel Greenwood, Jr., Joseph's grandson, was the first of the family to move to Farmington, Maine in 1832 with his wife, Huldah (Howe) Greenwood. Nathaniel and Huldah had ten children, some of whom remained in the Farmington area while others moved to Massachusetts, Indiana, Kansas, and Oklahoma. Nathaniel was engaged in the lumber business and farming until his death in 1867.
The latest papers are generally correspondence between members of the Greenwood family conducting genealogical research on their family. These are generally Mildred Francis Greenwood her brother, Philip Prescott Greenwood.
Other family members include Julia Greenwood Brown, Harley Greenwood, Alfred Alanson Greenwood, Zina Hyde Greenwood, Orville Short Greenwood, Cora Prescott Greenwod, Jarius Lee Prescott,
The family papers include correspondence, property records, legal documents, genealogical research, clippings, and other printed ephemera. Nathaniel Greenwood, Jr.'s son, Chester Greenwood was the inventor of earmuffs and two pairs are also included in the collection.
Keywords
Social Life and Customs, Race and Gender
Size of Collection
4 boxes
Dates of Collection
1773-1973
Manuscript Number
SpC MS 1744
Recommended Citation
Special Collections, Raymond H. Fogler Library, University of Maine, "Greenwood Family Papers, 1773-1973" (2015). Finding Aids. Number 212.
https://digitalcommons.library.umaine.edu/findingaids/212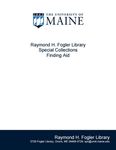 Included in