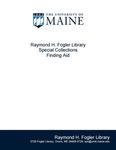 Files
Download
Download Collection Finding Aid (118 KB)
Description
The collection contains materials gathered by Edwin Churchill in his work as an expert witness for the state of Maine in three court cases. It is arranged chronologically by case. The arrangement and folder headings are those used by Mr. Churchill.
The papers prepared for the Moody Beach case include briefs and the court decision, notes, an index to exhibits entered by the state of Maine, and Churchill's proposed testimony at the trial.
The papers generated for the Wells Beach case are the largest section of the collection. They are arranged in the following order: administrative, notes, articles, and documents. Most of the material consists of photocopies of legal documents, local histories, and town records, etc. consulted by Mr. Churchill. His work included detailed research through published volumes of York deeds, Maine Province and Court Records, Wells town records, Massachusetts and Maine Acts and Resolves, diaries, maps, and photographs.
Keywords
Education, Government and Law
Size of Collection
4 boxes (3 cubic feet)
Dates of Collection
1987-2000, bulk 1999-2000
Manuscript Number
SpC MS 0777
Recommended Citation
Special Collections, Raymond H. Fogler Library, University of Maine, "Churchill (Edwin A.) Papers, 1987-2000" (2015). Finding Aids. Number 20.
https://digitalcommons.library.umaine.edu/findingaids/20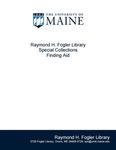 Included in