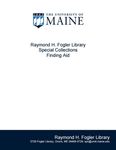 Files
Download
Download Collection Finding Aid (82 KB)
Description
These papers consist of Peleg Bradford's letters to friends and family during his time as a soldier in the Civil War. Collection also includes typewritten copies of the original letters.
Keywords
Military and War
Size of Collection
1 box (1 linear foot)
Dates of Collection
1862 Aug. 28-1865 Apr. 7.
Manuscript Number
SpC MS 0068
Recommended Citation
Special Collections, Raymond H. Fogler Library, University of Maine, "Bradford (Peleg) Letters, 1862-1865" (2015). Finding Aids. Number 184.
https://digitalcommons.library.umaine.edu/findingaids/184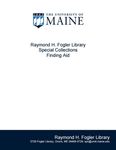 Included in