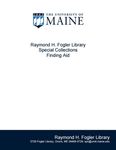 Files
Download
Download Collection Finding Aid (109 KB)
Description
The collection is arranged in two series: Papers of Oscar Fellows and Papers of Raymond Fellows.
The first series begins with drafts of the report of the International Commission Pertaining to the St. John River as well as plans and maps accompanying the report and transcripts of a few of the proceedings of the Commission. Correspondence to and from Oscar Fellows, as well as correspondence of Commissioner Keegan and information about Commission expenses and Fellows's compensation is also included. Information collected by Fellows in his work for the Commission completes this series.
The second series, the papers of Raymond Fellows, includes the application of the New Brunswick Electric Power Commission to the International Joint Commission, 1924, reports and correspondence about the planned construction at Grand Falls, and various petitions, responses, and resolutions filed in reaction to the application.
Keywords
Government and Law
Size of Collection
1 record carton (1.2 cubic feet)
Dates of Collection
1899-1926, bulk 1905-1925
Manuscript Number
SpC MS 0175
Recommended Citation
Special Collections, Raymond H. Fogler Library, University of Maine, "Fellows (Oscar F.) Papers, 1899-1926" (2015). Finding Aids. Number 148.
https://digitalcommons.library.umaine.edu/findingaids/148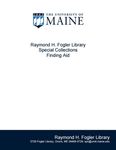 Included in