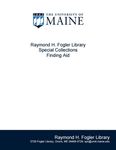 Files
Download
Download Collection Finding Aid (100 KB)
Description
The collection contains two daybooks maintained between 1764 and 1839 by Daniel Bucknam and his sons, Shepherd and Calvin Bucknam, of Minot, Maine. The books contain itemized accounts of goods and services sold by the Bucknams and reflect the use of trade and barter in their lives.
The first volume was used mostly by Daniel Bucknam, although the inclusion of later dates probably indicates that it was used by Daniel's sons as well. The second volume has the name Calvin Bucknam written on the inside cover and contains some biographical information about Calvin and his family.
Both books record the names of customers, items or services purchased and the amounts charged on one page with credits accorded to those individuals on the facing page. Customers came communities such as Minot, Poland, Dixfield, Buckfield, Paris, and Norway. As well as providing services themselves, the Bucknams also employed other people from time to time, and their time and attendance records and tasks performed are listed in detail. These include chopping and piling wood, mending fences, sawing, and splitting shingles.
Some family and biographical information about the Bucknams is also included in both books
Keywords
Social Life and Customs, Business and Industry
Size of Collection
2 ledgers (0.3 linear feet)
Dates of Collection
1764-1839, bulk 1790-1810
Manuscript Number
SpC MS 1007
Recommended Citation
Special Collections, Raymond H. Fogler Library, University of Maine, "Bucknam (Daniel) Papers, 1764-1839" (2015). Finding Aids. Number 14.
https://digitalcommons.library.umaine.edu/findingaids/14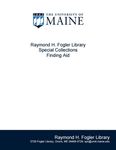 Included in